In the heart of the Alps, La Clusaz is an authentic village of Haute-Savoie which seduces with its preserved environment. The village has forged, over the years, a unique identity thanks to its playground and its warm welcome. A land rich in champions and traditions, stories and innovation, La Clusaz is looking to the future. 
The assets of La Clusaz 
La Clusaz has many assets which make it a very popular village. La Clusaz animates a real community that knows how to share and enhance its natural, cultural, architectural and gastronomic heritage! La Clusaz is a beautiful village with a lot to offer its inhabitants. 
A village with a history
La Clusaz comes from the patois "cluse" which means "passage between two mountains". Formerly, La Clusaz was a particularly poor village; indeed, the inhabitants, the cluses, exploited the forest and the mountain pastures and lived on agro-pastoralism until the beginning of the 20th century. From 1902, with the opening of the Col des Aravis road, the tourist movement started, and the first skiers arrived from 1907. La Clusaz then became a tourist resort for winter and summer sports and had 3 hotels in 1920 to welcome new tourists. The real growth of La Clusaz as a winter sports resort only began in 1955 with the construction of the Beauregard cable car serving beautiful snowfields. 
La Clusaz, an easily accessible village 
With its population of 1700 inhabitants, the charming little village of La Clusaz is located 1040 meters above sea level, at the foot of the Aravis range, just 30 minutes from Annecy and 50 minutes from Geneva international airport. It will take you 2h to reach La Clusaz from Lyon and 5h30 from Paris. Throughout the year, TGVs connect Annecy to the rest of France, then shuttles then connect Annecy to La Clusaz in about 1 hour. 
An exceptional setting
La Clusaz offers an exceptional natural setting and breathtaking landscapes. La Clusaz is a mix of authenticity and modernity, of the art of living in the mountains and of skiing culture and has a rich natural cultural, architectural and gastronomic heritage. Sporty and dynamic resort, summer and winter, La Clusaz nestles in its mountains and offers a trip in this preserved setting through its winter and summer sports, its festivities, its gastronomy, its know-how, its heritage and his personalities 
An extraordinary lifestyle
La Clusaz seduces a local but also international clientele looking for charm, dynamism and a relaxed way of life. Its ski area extends over 125 km of slopes and offers a natural playground of high quality and exceptional variety that will satisfy all skier profiles. La Clusaz is the birthplace of many champions in various disciplines such as, for example, Edgar Grospiron, Candide Thovex, Régine Cavagnoud or Vincent Vittoz. The activities are numerous in all seasons: skiing, paragliding, hiking, golf, spa, ice rink, etc. and can satisfy skiers and non-skiers, families or sports enthusiasts looking for adventure, well-being or rest. The shops, bars and restaurants are numerous and showcase local and top-of-the-range products. Many events, sports competitions, music festivals enliven the resort all year round, so the clientele is abundant throughout the seasons.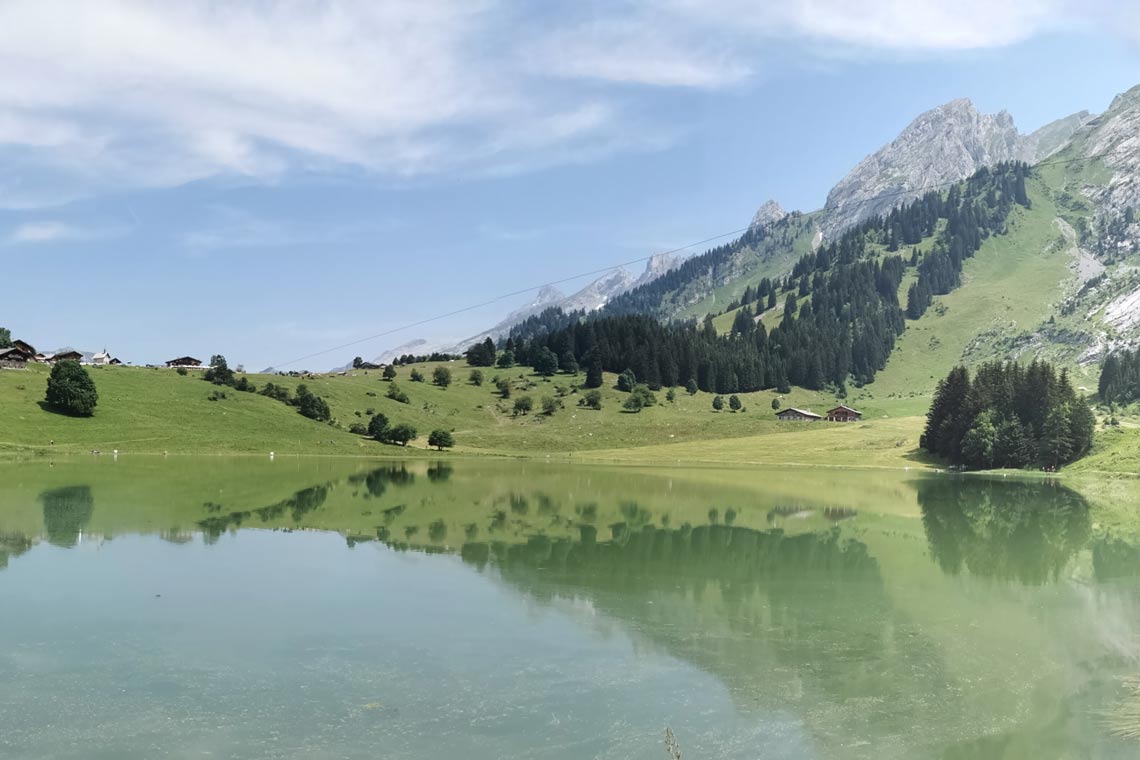 The best places in La Clusaz
The town has many hamlets which are, among others, Nant, Paccaly, Confins, Cluiseraz, Crêt Braffaz, Fernuy, Bossonnet, Verriers, Gotty, Converses and Aravis. 
The Borders 
Above Confins Lake, the site is renowned for its setting and access, nestled at the foot of the Aravis valleys. The Confins Nordic area is a unique and recognized place. The Confins plateau has retained its authenticity by preserving the natural heritage and remaining a friendly site for all. You will find the Chèvrerie des Confins, an artisanal cheese dairy, as well as typical restaurants such as La Chenillette and Le Chalet du Lac.
La Cluiseraz 
Just before Confins Lake, the hamlet of La Cluiseraz offers many chalets for rent as well as holiday villages. Indeed, the proximity to the slopes of the La Clusaz ski area make this hamlet a strong asset. 
Le Fernuy 
The hamlet of Fernuy has an altitude of 1,194 meters. Le Fernuy is located near Plan du Fernuy, and close to Prérol. It is home to a campsite open all year round and many hotels and chalets for rent. Le Fernuy is ideally located 1.5 km from the village and not far from the slopes. 
The real estate market in La Clusaz 
La Clusaz has a unique architectural identity where noble materials and modern designs come together. New or old luxury chalet, unique apartment, studio at the foot of the slopes, the offer is varied and popular with real estate investors and international clients in search of excellence. La Clusaz has become very popular in recent years as it benefits from a prime geographical location in the heart of the Aravis massif. The friendliness and dynamism of the village with all the activities on offer are also of interest to buyers. Moreover, its breathtaking landscape attracts newcomers. 
For its many reasons, the price of real estate has increased by more than 10% in just 2 years. If you plan to buy a property in La Clusaz, you will have a wide choice of properties. Rental prices are also on the rise, which is why a large number of buyers are interested in buying a second home. Many residents of Annecy and Lyon, but also British, Belgians, Swiss and Dutch people invest in a second home in La Clusaz to spend their summer and/or winter holidays there and enjoy the outdoors. 
The real estate market in La Clusaz is varied and interesting. Whatever your needs or your budget, there is certainly a property that will seduce you in this charming little village. If you wish to invest in real estate in La Clusaz, do not hesitate to contact our BARNES Aravis agency so that our advisers can present our properties to you.